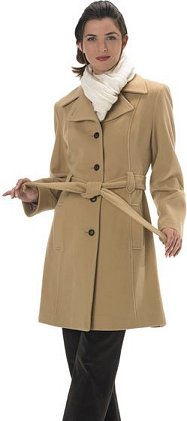 (ARA) – In a fall / winter season of more grown up, sophisticated looks — beautiful, fitted suits and stylish dresses — a dressed up coat is the starting point for this season's more polished, statement-making looks.
"With fashion changing from casual to elegant, a coat is not just a buffer against bone-chilling elements, it's the first impression you make." reports Burlington Coat Factory President Monroe Milstein. "This season a coat speaks volumes about your individuality and your sense of style. If packaging is everything, buying a coat is perhaps the most important fashion decision you'll make this season." Here are some of the top coat trends to shop for this season:
Black Magic
Perhaps the most important choice this season is a new black coat in a luxe material and a shapely style. A good choice is a black faux Persian lamb coat that has a rich texture and sophisticated coloration and speaks volumes about fall's more elegant mood. With the opulence and warmth of fur and the versatility of wool it goes well with a sophisticated little black dress for evening or over a velvet jean by day.
Hot Chocolate
Another popular color choice is brown, and this season there are an abundance of hues to choose from. Toffee, espresso, bark, or a rich, chocolate in wool or leather can be elegantly accessorized with ivory. Spice tone knit accessories create casual ease — perfect for city or country living.
Military Perfection
The best menswear-like and military style this season is a single-breasted camel colored notch collar wool trench; a cropped version of the iconic classic. Its tie belt defines a trim waistline or creates the illusion of one — a problem solving answer for many women. Paired with this season's tailored pantsuit or menswear style cardigan sweater with slim skirt, this modern update on an officer's coat makes a major impression.
Metallic Polish
J LO's silver "satin" to white reversible down bomber with faux fur trim strikes the right
balance between fashion and fun while Baby Phat puts a shimmery spin on gold. Metallic is the perfect melding of modernist function and effort free luxury. Wear it on weekends with jeans, on the slopes with skis or for evening to put a youthful spin on "black tie" events.
Tips on buying that perfect coat
Whether your style is ladylike, tailored or casually elegant, this season you will find a huge array of coat styles to polish your look for a lasting impression. Burlington Coat Factory's Milstein offers these tips on buying that perfect coat:
* Consider fit, fabrication and your lifestyle.
* A shape can make or break your look. A slim, sleek coat is, after all, slimming. Unbroken lines add length and shed pounds.
* When choosing a coat, allow enough room for fall's new suits and softly feminine dresses.
* A short, knee length coat fits everyone and hits at the right point to expose pants, skirts and fabulous boots.
* A belted coat defines one's shape. A belted trench can be tied in the back for a chic alternative.
* Be sure to check sleeve length. Allow an extra half-inch to cover long sleeved jackets. Add long gloves to fall's bracelet sleeved coats.
* Color and texture play important roles for fall. Black, this season's favorite, is turned out in new rich fabrications and textures: velvet, satin and fake fur as well as plush Melton and rich cashmere blends. A winter white or lipstick red coat also make a strong statement amidst this season's beautiful black coats.
* Look for special details that make a coat unique — fur trims, piping and stitching and important button treatments — from menswear inspired leather or tortoise buttons to dressmaker inspired decorative or covered buttons.
* Make sure to look in a full-length three-way mirror to see the coat from all angles and try sitting in the coat you plan to purchase to insure ease of movement.
* Consider price when purchasing your coat – this season you may want more than one.
This season you'll be able to purchase a special unique coat that makes your look fabulous whenever you put it on. A well-made coat is not only the best investment you can make this season, it's the most important fashion statement you will make for fall.
Courtesy of ARA Content
RELATED ARTICLES:
• Creating Your Style with Scarves
• Sweaters in Style for Winter 2005-2006