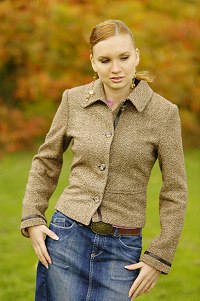 Women's sweaters for this Fall come in a variety of styles and shades of color. Sweaters can be worn for many different occasions from lightly colored causal gatherings to darker and more formal functions. The cashmere sweaters in different styles and colors from pastel toned cardigans, dark v-necks and earth colored turtlenecks to argyle styled vests are popular among designers. Cashmere is a delicate, soft fabric made from the wool of mountain goats and is very warm without bulk. Another style, which will be popular in 2006, is sweater vests. They are sleeveless sweaters worn over casual shirts in cool weather. These vests may be made of cotton, wool, or a mixture of man made and natural material, and in various prints and colors. Also cardigan sweaters, which are made in different shades of color and have zippers or buttons in the front, will be in fashion. There are different styles of cardigan varying from cashmere to cotton, and in different stitch types like Aran (Irish) knit.
Dressing Your Man
For your man, sweaters may come in various designs and colors to be worn for many occasions. A popular sweater for a man is a cashmere sweater. This type of sweater can come in many styles including a v-neck and turtleneck sweater. Many cashmere sweaters for men may be worn alone or with a semi formal jacket. Another style of sweater for men is a sweater vest. This is a nice choice of clothing to wear with a semi formal or even casual shirt in cooler weather. These vests are made of wool, cotton or cashmere and come in various colors to accentuate what shirt a man may choose to wear underneath. Also cotton sweater in various styles such, as a cardigan sweater, vest, men's v-neck and turtleneck are popular. Cotton is a breathable, comfortable fabric suitable for many occasions, as well as being an inexpensive material that is easy to care for. A woolen sweater comes in different style ranging from argyle to crew neck to turtleneck to a buttoned or zippered cardigan. Wool is known for its warmth and its ability to breath, and is a common material that sweaters are made from.
Colors
The colors popular in sweaters for fall are very dark and neutral. Black is always in, dominated the runways by far from other colors. Brown known this season as Italian plum is still big. You will also see a touch of garnet, spicy orange and purple drab. The color that tops all and is a must have for the season is deep cobalt, otherwise known as navy. Navy is being paired with all of the above including brown. You will see navy sweaters with brown skirts. Black dominated but had a touch of one of the colors above added to the outfit. There was plenty of play with different shades of black; it is not just solid black this season. Also this fall wool knitwear which is hand-made cashmere, mohair and angora threads, often matched with light and impalpable fabrics like organza is popular.