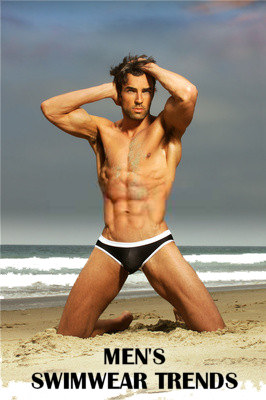 Just like in all areas of fashion, men's swimwear styles tend to be more conservative than ladies' styles. However, this is gradually changing, as more and more possibilities become available to men. Sexier and bolder men's swimwear fashions are becoming more and more popular. If you are looking for ideas to dress up your guy for the beach, you will need to know what's in fashion.
Bikini Style
In previous years, men's bikini style swimsuits tended to be more acceptable in Europe, as opposed to the USA. However, for men who want to achieve a better tan line, show off their toned thighs, or just experiment with something new, there are plenty of attractive bikini styles on the market today. You can choose from a standard cut (which is about 1 inch wide at the waist), a racing style (about 3 inches wide at the waist), or even a Brazilian bikini style, which has less rear coverage and a narrower front pouch. While a bikini style swimsuit is not for the faint of heart, they can look great and feel great too!
Thongs
If you're feeling particularly confident and would like an even sexier swimwear look, shop around for some of the new thong swimsuit styles, or try a hybrid thong/bikini, which offers more rear coverage than a standard thong. You can also explore male enhancement swimwear designs, which are becoming more popular and common. These types of designs pad the front pouch to create the illusion of greater fullness. Unsurprisingly, male enhancement designs are quickly growing in popularity.
Traditional
Not quite ready to break away from more traditional men's swimsuit styles? Never fear–there are still plenty of options for you. However, even your basic pair of swim shorts is showing a little more skin these days. Long board shorts are on the way out, with most fashionable swimming trunks sporting an inseam of no more than 3 inches. This is good news, as board shorts are hard to swim in, not particularly comfortable, and leave you with white thighs and tanned calves.
Colors
As for color, the trend this year is towards colorful patterns like plaids and stripes. Blues and greens are always in style, and red is a great choice for a man's swimsuit. You really can't go wrong with pattern or color–go for fun, bright hues in either a solid or a pattern, depending on personal preference.
Detailing
Men's swimwear is finally catching up to the ladies in terms of detail. Some swim shorts are sporting zipper flies, Velcro tabs, or even buttons, in various colors and designs. Interesting cross-stitching, colorful linings and textured drawstrings can make a basic swimsuit more original.
When you're shopping for a swimsuit, don't be afraid to experiment with styles that are unfamiliar to you. If you've never worn a bikini, for example, you may be surprised to find that you enjoy the fit. When in doubt, just purchase two or three swimsuits in different styles and wear them around in the privacy of your own home for a few hours before making a decision. Whatever swimsuit style you decide to wear this year, make sure that it expresses your personality and is comfortable.