With more and more Women choosing to stay with their family and children when it comes to choose between 'Home' and 'Work' as well as the current times of recession, the concept of 'Work At Home' has come as a disguised boon for Women.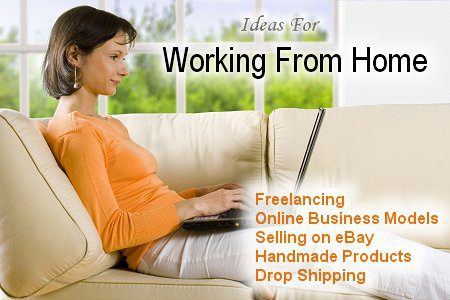 However, it is most unfortunate that 75% of 'Work At Home' Women are wasting their energies and talent competing with each other by confining themselves to 4 or five time tested Home-Businesses. Not aware of the vast possibilities, women are concentrating only on selected businesses such as selling Tupperware or Website Designing. In this section, we hope to make you aware of the vast number of opportunities lying before you.
Some basic training can equip you for a number of home based jobs and businesses. For e.g., some basic education in online stock trading or business intelligence certification will equip you to work freelance from home in these areas. A short course in fruit or flower reservation or professional answering services will make sure you are ready to set up your own home based business empire.
We know it is impossible to accumulate everything on a single page. The least that can be said is: "Everyone has a talent; Every talent can earn you a living; There is no limit to the ways you can earn working at home."
WORK AT HOME IDEAS

 Fundamentals of Online Trading of Stocks

 How To Start A Home Based Gift Basket Business

 Make Money In The Kitchen Products Business

 Flower Preservation Services (Preserve Fresh + Dry)

 Make Jewelry from 'Household Treasures'

 Bronzing Objects

 Create and Sell Kids Craft Kits

 66 Ways To Make Money With Handicrafts

 A Furniture Refinishing Business In Your Home

 Auto Cream Puff Service

 Bed And Breakfast The Easiest Home-Based Business

 Candle (And Soap) Making Business

 How To Transfer Photos To Other Objects

 Home-Based Answering Service

 Reseller Hosting Explained