This cute clay pot is decorated with decoupage and filled with fake flowers. It works wonderfully as a shelf decoration, place-card holder, and especially as a decoration outside a Barbie or Bratz house!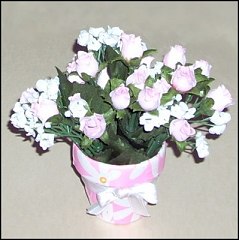 Materials:
Clay plant pot – 2 inches tall. Any size pot can be used, just alter the needed materials accordingly.
Decorative paper – amount depends on type and style. I used old gift wrapping paper.
Glue
Paintbrush
Scissors
Popsicle stick
Ribbon and matching bow – size and amount depends on look desired and size of clay pot
Fake flowers – size and amount depend on look desired and size of clay pot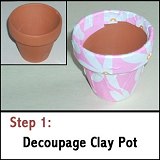 Instructions:
1. Decoupage your clay pot.
Cut up your decorative paper and glue it smoothly onto a clean clay pot. Use a popsicle stick to gently smooth the paper flat, following the shape of the pot. Cover the pot completely with the paper and let dry.
Once the decoupage is dry, seal the paper with another layer of glue or with a varnish. Make sure the cover the pot in a thin, even coat to protect the decoration. Let the pot dry.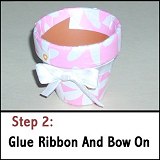 2. Apply ribbon and bow.
Measure how much ribbon you need to wrap around the pot once, right under the pot's brim. Use a little glue and wrap the ribbon around the pot, with the two ends slightly overlapping in front.
Take your bow and brush a little glue onto the back. Glue the bow over the ends of the ribbon, making a neat and tidy looking decoration on the pot. Let the ribbon and bow dry.
3. Place flowers in pot.
Take your fake flowers and arrange them attractively in the decorated clay pot. Most fake flowers can have their stems cut off with ease, so don't be afraid to get creative with the arrangement.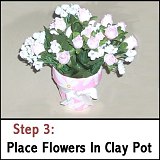 Glue the ends of the flowers to the inside bottom of the pot if needed, and let dry. The flowers are finished and all you have left to do is decide how to display your creation.
Notes:
If you don't glue the flowers into the pot, you can change this decoration with the seasons. Decoupage the clay pot with a lovely, but general, decoration. Then add fall leaves to the pot in the fall or cheerful daisies in the summer.
This craft is also great for kids, and lets them choose from making a simple decoration to an intricate creation. If you want to use the decoration as a place card holder just find a piece of wire. Stick one end on the wire into the pot and use pliers to curl the other end into a typical, spiral-shaped cardholder.