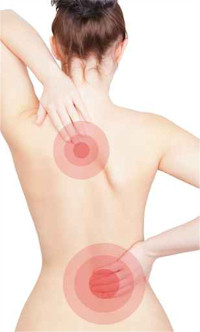 Millions of people wake up every morning complaining of pain in their neck, shoulders and upper back. Neck, shoulder and back pain  is also increasingly affecting children and adolescents as opposed to just adults. Hence, it is clear that it is not age that causes this severe discomfort. The culprit may be your sleeping habits and the position you sleep in!
How Your Sleeping Habits and Sleep Position Contribute
Each day, you put pressure on your spine, which directly carries the tension in your neck, shoulders and back. Even simple, everyday tasks like sitting at a desk, working on your computer, driving, bending, lifting objects etc. contribute to the increasing load on your spine. Your sleeping time is supposed to be a time  these areas of your body relax and regenerate. However, if your neck is not properly supported while you sleep, your body does not have a chance to recover from all the hard work endured during the day. Inaccurate neck support while sleeping can cause severe neck, back and shoulder pain over the years to a point where it becomes unbearable and results in chronic pain.
Pain Interferes with Your Sleep
Improper sleeping induces pain, and the pain hinders good sleep. Neck, back and shoulder pain can actually start a vicious cycle. You are in pain and are unable to sleep, but you have to sleep (and sleep well), in order to get rid of the pain. A continuous lack of sleep can even lead to other problems such as depression, chronic fatigue, and believe it or not, weight gain. Fortunately, scientists and health care professionals have figured out the causes of the pain in the neck , back and shoulder and worked towards finding methods and remedies that help.
Tips for Relieving the Pain
The Right Pillow
The first step towards eliminating the discomfort of these symptoms is to correct your sleep habits, and the most important part of this step is to get a pillow that properly supports your neck. Try to find one that is designed to be tailored to the position you sleep in, because not all pillows are created equal. The memory foam (visco-elastic) pillows have increased in popularity, and rightfully so. They were actually quite beneficial in relieving the pain of neck, shoulder and back for a number of people who slept on wrong pillows for years.
Remember these tips when choosing your pillow. Lying on your side, you must have the head, neck and shoulders at the same level as the middle and bottom of your spine. Lying on your back, your head and neck must be at the same level as the upper back and lower back. Avoid pillows that are too thick or too thin as they create an angle between your neck and your body, resulting in a stiffness upon waking up. The pillow should be flexible enough to adapt to the contours of your neck according to your sleeping position .
The Correct Sleeping Position
Your sleeping position influences the neck pain and as a result, your mood the next morning and all day. It is best to sleep on your back or side, rather than on the stomach, because this position often causes back pain. On the back or side, let the head and neck relax in their natural axis, and see to it that no unnecessary tension is created. This will prevent you from waking up stiff and will enable you to start the day off right with a refreshing energy.
Small Changes in Lifestyle
Massage, yoga, and proper exercise are also methods that have proven to reduce pain in these areas of the body. Get into the habit of taking out time every morning or any time you are free on your work desk, to do neck exercises. By incorporating small changes like these into your lifestyle, you should have no problem overcoming your ailments.
Chronic?
If a visco-elastic quality pillow and simple techniques such as massage or neck exercises do not solve your neck pain, you might want to schedule an appointment with your doctor as your pain could have become chronic. This pain is something that affects your whole being every day of your life.Finding a cure quickly and working upon right away is vitally important to improve your quality of life.