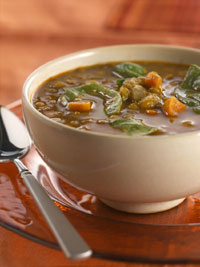 Featuring well-balanced curry flavor, this soup makes a great introduction to Indian-style cooking. The lemon juice in this recipe makes the iron in the spinach more available to the body, so this soup is the perfect meatless dinner solution for moms with vegetarian teens. You can also divide the batch into single servings to be frozen so that you have fast, healthy lunch bag options on hand, too.
Ingredients:
1 tbsp (15 mL) vegetable oil
1 onion, finely chopped
1 carrot, finely chopped
2 cloves garlic, minced
1 tbsp (15 mL) mild Indian curry paste
1 tsp (5 mL) each ground cumin and pepper
3/4 tsp (3 mL) each ground allspice and coriander
2 tbsp (30 mL) tomato paste
1 1/2 cups (375 mL) dried brown or green lentils, rinsed and sorted
6 cups (1.5 L) vegetable broth
1/3 cup (75 mL) ReaLemon Lemon Juice (approx.)
3 cups (750 mL) lightly packed baby spinach
Plain yogurt (optional)
Directions:
Heat the oil in a large skillet set over medium heat. Add the onion and carrot to the pan and cook until lightly browned. Stir in the garlic, curry paste, cumin, pepper, allspice, coriander and tomato paste. Cook for 2 minutes, stirring. Transfer to the slow cooker.
Add the lentils, vegetable broth and lemon juice to the slow cooker. Stir to combine. Cook, on high heat for 6 hours or on low heat for 10 hours, until lentils are tender. Turn off the slow cooker. Remove 2 cups (500 mL) of the soup and puree in the blender. Stir back into the remaining soup along with the spinach. Let stand, covered, for 5 minutes.
Adjust seasonings and add extra lemon juice to taste. Serve with a dollop of yogurt (if using).
Makes 8 to 10 servings.
Tip: Chop the onion and carrot in the food processor for an even easier preparation.
Per serving: 180 calories, 3 g fat, 11 g protein 28 g carbs, 5 g fibre, 739 mg sodium. High source of fibre. Excellent source of vitamin A, folate, iron and magnesium. Good source of thiamin, phosphorus and zinc.
- News Canada