Serve fresh tomatoes with herbs, lemon juice and mint for a tasty and healthy snack.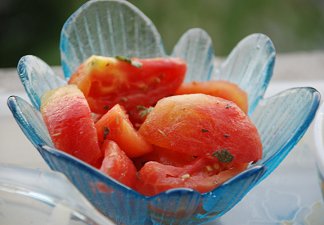 Ingredients:
4 medium sized ripe tomatoes
1 tsp. salt
1/4 tsp. freshly ground pepper
1/2 tsp. dried thyme, crushed
1 tbsp. finely chopped fresh mint leaves
Juice of 1 lemon
Directions:
1. Place tomatoes in boiling water for 3 minutes and immediately transfer them to cold water.
2. Peel the tomatoes. The skin should come out easily now.
3. Chop the tomatoes in thick slices and sprinkle salt, pepper, thyme, mint leaves and toss.
4. Add freshly squeezed lemon juice, mix well and let stand for 10 minutes.
5. Drain the lemon juice, keep aside and place tomatoes in serving dish.
6. Just before serving, sprinkle the reserved lemon juice over the tomatoes.