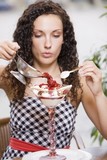 An ice-cream party is the best way to celebrate summer time. Enjoy the hot sun licking your favorite flavor of ice-cream with your friends. It may be a little messy, but not at all a hassle to host an ice-cream party. Whether you want to host a party for kids or for grown-ups, here are some tips for a memorable Ice Cream party.
How Much Ice-Cream?
Each guest will be served at least 2 scoops of ice-cream. A quart container yields about 8 scoops which means it will serve 4 people. But you will need to provide for second helpings so it is safe to assume that one quart will serve 3 people. This means, a gallon will serve 12 people, two gallons will serve 25 people and so on.
Other Supplies
Apart from ice-cream, two other essential items are syrups, sauces or sprinkles and whipped cream. 1/4th cup of sauce, syrup or sprinkles goes on each sundae so you will need 3 cups to serve 12 people. A dollop of whipped cream on each sundae means you will need 1 and a 1/2 8-ounce container to serve 12 people.
Apart from this, you will need wafers to decorate. Buy two wafers per person to cover second helpings.
Keeping Your Ice-Cream Cool
If buying ice-cream, ask for the ice cream to be packed in dry ice or coolers. This will make your work much easier. If making homemade ice-cream, make it one day ahead and store it in the freezer. When taking out for the party, use lots of dry ice. Place dry ice in a large container and place your bowl of ice-cream over it. You can also rent a cooler for the occasion.
Choosing the Location
This is not really a big deal but there are some points to consider. An indoor party works well but the mess will be difficult to clean up and you may have to tolerate stains on fabrics as well. However, if you are hosting the party for a small group of grown ups, indoors will be perfect and ease up the process of making and serving ice-cream based desserts. Otherwise, gardens and backyards make great venues for ice cream parties.
Managing the Mess
The only minus point of ice-cream parties is the mess. You can effectively minimize your work by using disposable stuff, lots of paper napkins and trash cans placed all over the area. If you do not want regular trash cans spoiling the decorations, cover cardboard boxes with colored paper, glue ice-cream stickers or cut outs and place all over your party venue. They will not only be extremely useful but also jazz up the decor.