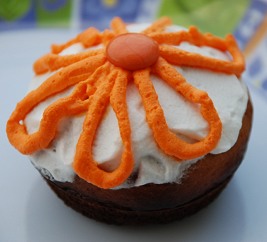 Bring and cheerful flowers with a M&M center are favorites for a kids birthday party any time of the year.
Ingredients:
For the Cupcakes
1/2 cup soft butter 1 cup sugar 1/2 tsp. orange essence 1 tsp. candied orange peel 1 egg 1 cup flour 1/2 tsp. baking soda 1/2 tsp. salt
For Decorating
Whipped Cream, sweetened Orange Food Color Orange M&M candies Round icing tip
Makes: 16 cupcakes
Directions:
1. Combine together and beat butter, sugar and essence until creamy and then beat in the egg.
2. Sift together flour, baking soda and salt and stir into the butter mixture. Stir in the candied orange peel.
3. Spoon by rounded tablespoon (one to a cup) into paper lined 2 inch cupcake cups.
4. Bake at 375 degrees for 10 to 12 minutes. Remove from oven and cool.
5. Mix orange food color in some of the whipped cream and fill an icing bag with it. Fit a simple writing tip for decorating.
6. When the cupcakes are completely cooled, cover them with plain white frosting. Using a round tip, make a 6 petalled flower starting from the center. Place an orange M&M in the center of the flower.
You can easily make these cupcakes in a variety of colors to please everyone. Just make sure you replace the orange essence and candied orange peel by an appropriate substitute like rose or strawberry for pink flowers, lemon for yellow flowers etc..