It is difficult to believe how simple and hassle-free and equally delicious this perfect summer dish is.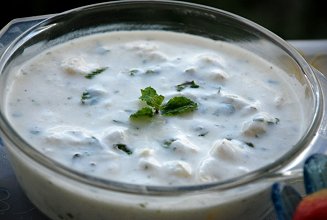 Ingredients:
2 8oz containers Yogurt – 16 oz
2 Large Potatoes – Boiled
1 tsp. salt
1/4 tsp. pepper
1/4 tsp. cumin powder
1 tbsp. chopped mint leaves
Directions:
1. Empty yogurt into a bowl and whisk using a fork till smooth.
2. Ass salt, pepper and cumin powder and mix well.
3. Fold in chopped, boiled potatoes.
4. Sprinkle chopped mint and fold lightly.
5. Refrigerate for at least 1/2 and hour before serving.