Transport your little Fairy into a world of her own with this adorable bedroom.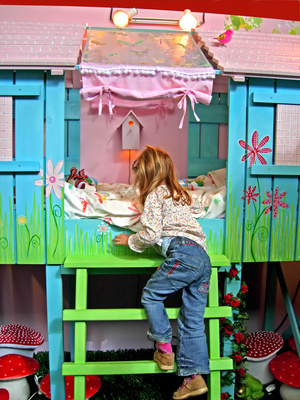 Stickers and murals are a great idea to decorate a Fairy themed bedroom for girls, but getting furniture made to resemble a whimsical tree house takes things to another level. Call it a Fairy Treehouse or a Woodland Fairy or a Fairy Garden theme, this bedroom is sure to charm any fairy-lover.
An elevated bed is covered and painted in pink and green to resemble a pretty cottage on top of a tree. Beneath, on a 'grassy' carpet are pretty storage 'toadstools'. A similar stool can also be made for the vanity or dresser. Cabinets, bookshelves and other furniture can be tied into the theme by painting a similar floral motif on all of them.
Keep the room light and airy and choose pastel colors like sage green, pale pink or lavender. A little glitter paint effect on the wall is also loved by girls. You can also have sky or stars painted on the ceiling.