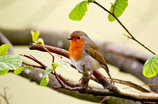 Share the spirit of Christmas with all of your feathered friends outdoors by making this bread dough and birdseed wreath. Hang it on a door or window during the holidays. It will not only add to your holiday decorations, but will be a pleasant treat to all of the birds in your yard that are looking for a treat. Later, after the holidays, you can add more birdseed and set it outside in the yard as a holiday feast for the birds.
Materials you will need:
3 individual loaves of frozen bread dough (regular bread dough is also suitable as long as it makes enough for 3 loaves.)
Picture hanging wire
Egg white
Birdseed
Ribbon
Thaw the bread dough on a floured surface. Next, stretch each loaf as evenly as possible to a length of approximately 30 inches long. This may be a little difficult because the dough is elastic and tries to return to its original shape. Allow one end of each length of dough to hang over the edge of the counter; its own weight willl keep it from shrinking.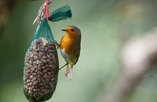 Pinch the three pieces together firlmy at one end and then braid the lengths; then form a circle with the ends of the dough attached to each other. Imbed a loop of the picture wire deeply into the back of the dough. This will later be used as a hanger so that you will be able to hang the wreath on a door or window.
Place the braided circle of dough on a large greased cookie sheet and allow it to rise according to directions on the package of bread dough. Bake at the recommended temperature until just slightly brown. Remove the bread from the oven, and brush the top and sides thickly with beaten egg white. Sprinkle birdseed on top before the egg white dries. Bake a few more minutes to complete browning.
Some seeds will fall off when the wreath is moved, but you can add more by using more egg white and sprinkling more seeds on the bread.
Allow the wreath to dry out and become hard for several days before you attempt to hang it. Attach a bow to the wreath with straight pins and tuck in bits of greenery.
After the wreath has graced your door for the season and the holidays are over, remove the bow and its pins, and place the bread wreath in a quiet area of the yard.
The birds will love you for their special treat of bread and bird seed.