When the need to become a WAHM first arose, MIA CRONAN was concerned about losing her identity. Little did she know that she would, very soon, become a mentor for Moms all over the world with Main Street Mom. Reaching out to all the women throughout the world with World Wide Web, Mia has become the 'Martha Stewart' of the web with her amazing expertise in a variety of Women-oriented issues.
A mother of four beautiful children who are gracefully taking after their multi-talented mother, Mia is thankful to have an extremely supportive friend in her husband Sean. Perfectly balancing her family life and the ever expanding Main Street Mom, Mia is an inspiration for each and every woman. Dot Com Women wishes Mia a very happy and prosperous life ahead.
"If you can picture it, it can be." – Mia Cronan
1. Let's start with some background info about you. Please tell us about your life before the computer stormed into it.
Well, after getting my marketing degree at Georgia State University in Atlanta in 1988, I spent 12 years in hotel management. I had a great time learning that business, but when our children started coming along, the hotel hours were not conducive to a family, so my husband and I decided it was time for me to be at home full-time. It was a hard decision to make, because I was concerned about losing my identity and feelings of accomplishment. The first year of being home was wonderful, and I thoroughly enjoyed being there for our girls and seeing all the milestones kids experience. We were part of moms' group, and the girls and I made some fantastic friends through that group. I was doing exactly what I'd wanted to do since I was a child, only with a lot more modern conveniences than my mother had!
2. Your ability to write with skill and expertise on a variety of women-related topics astonishes me. I have read your articles on Crafting, Parenting, Business, Spiritualism, Home Decor and many more topics. What went into acquiring this vast knowledge? Did you have a vision of what you wanted to accomplish when you were young?
Thanks so much for the words of encouragement! I had no desire to write when I was young, although I did enjoy related topics in school. When I started staying home with our kids, I felt I had a message inside me, one that would encourage women who have a hard time parting with their career to do so in spite of the anxiety, because it is worth it in the end. We have such limited time with our children, and the rewards of being there for them are innumerable. When I started putting my feelings down on paper, more ideas kept popping into my head, and I kept writing and getting positive feedback about my work.
3. After spending 12 years in hotel management, how did the launch of 'Main Street Mom' come about?
After my first year of being home with the girls, I started needing something to keep my mind active in the business arena. A friend of mine was going through the exact same thing, so we decided to start a print newsletter for at-home moms. However, that never came to be, as the internet seemed like a more progressive medium for getting our message out. We built MainStreetMom.com, and the rest is history. After the first six months, my then partner went on to do work for her husband on the internet, so I forged forth with a small, struggling site. There were times when it was tempting to give it up, but I didn't want to abandon it without really giving it a go. Today I have 60,000 subscribers to my five newsletters, over 5,000 members on my discussion boards, and the site receives about a million page views a month.
4. Now that the World Wide Web is your arena, what changes has it brought to your life? What would you say, are the benefits/drawbacks of working online?
There have been so many changes that results from my work, I can barely picture my routine without it. I have a beautiful network of friends, for one thing. These are women who do what I do, from their home offices or kitchens, they usually have several kids playing at their feet while they work, and they know the ins and outs of having a busy parenting site. We support each other and have gotten incredibly close despite never having met in person. These women are my cyber soul mates, in a big way! In addition to that, I feel I have a much stronger base of knowledge about parenting, and mothering specifically, because of my exposure to the wealth of related material I've come across.
Sometimes it's sent to me in the way of an article submission, or it might be something I come across as I search for good pieces to feature. I also think that I am a more confident person since I have this small at-home business. I feel more well-rounded and more complete having something for myself. I've seen moms who spend 100% of their time "doing" for everyone else, to the detriment of themselves. They lose themselves which hurts everyone in the end. My site is my way of balancing my life; when my kids are sleeping, I'm working and rejuvenating myself at the computer!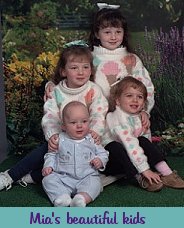 5. MSM gives 'Spiritual Growth' its due importance, which is rarely seen in other women's websites. Your comments on this? The Spiritual Growth area of my site came about simply as yet another "channel" on my site. However, because of the faith of my visitors it's taken on a life of its own, in a way, and that area of the boards is a busy one! Early on, I tried to send the message that MainStreetMom will not censor religious topics unless they are hurtful to others, but I do insist that topics of this nature remain respectful of all views. I am Roman Catholic but did not set out to push my faith on anyone at the inception of MainStreetMom. I find it interesting how the spiritual area has become such a haven for so many people. A lot of my visitors say how relieved they are to find a place where they can chat, learn, and share about their faiths without fear of retribution. That was not my goal in the beginning, but I'm happy to see this happening! I think we all need to hold onto God in our own way, and let Him be the pilot in our lives.6. MSM gives its visitors a wide range of topics to choose from. What is your role in defining the topics, adding & updating content etc. How do you manage a site as vast as MSM in an organized manner?
The site has grown steadily over the past five years…it certainly didn't start off large. In fact, it started off as 19 pages that looked nothing like my site looks now. It had at the beginning a Victorian look, and after asking around, we found that it just looked "old" to people. They wanted something fresher, brighter, and more modern. I think that's what they have now! I try to add fresh content regularly, but summertime is usually slower with adding new features. The topics themselves are things that interest my peers and myself as at-home mommies.
7. MSM also publishes Ezines on various topics. Who are the editors of these ezines and how do the ezines compliment the content which we already find on the website? I edit and publish these newsletters with the help of my lead moderator on my discussion boards, Jeanie. She handles Crock Pot & Crafting Ideas, and I publish SmorgasBoards, Main Street Mom Weekly, and Penny Parenting. The original newsletter is Main Street Mom Weekly, which encompasses new, updated material on MainStreetMom.com and goes out to about 19,000 moms. SmorgasBoards is a weekly listing of interesting topics on our discussion boards. Penny Parenting is a piece that helps parents teach their children how to be money-savvy and frugal.
8. Ok…this is a personal choice question for you. Of all sections on MSM and the ezines, which ones are your favorite?
My favorite sections are the Crafting section and the Your Home section. I love crafting and taking care of my home. There are some terrific authors out there who put out wonderful content on these subjects, and I love featuring them! I have found some great ideas online!
9. What do you like to do when you are not working on MSM?
I love anything involving my four kids. We have three girls and one boy, and they're 8, 6, 4, and almost 2. They are an inspiration to me, and the reason I started MainStreetMom.com. I also love crosstitching and antique shopping. Antique shopping doesn't happen often with a 21 month-old son, but there'll be more time for that later! I'd also like to develop a new-found interest in painting.
10. Your views on Matrimony and Motherhood? How did they affect your personal and professional life?
I tend to be a very traditional person. I enjoy the routine and the roles of being a traditional wife and mother. My husband tends to be the same way, which works out great! When he agreed to let me stay home with our kids (we now have four), I was thrilled and so grateful. It's been hard, financially, at times, but we've learned to adjust. It's amazing what we really don't "need" after all!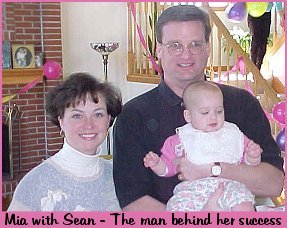 11. Who are/were the people who are/were instrumental in your success? My husband has been wonderful…never once did he make me feel goofy for any "great new ideas" I might have had. He's always been supportive (and we know that there are plenty of unsupportive husbands out there when women want to start a business at home) and has always been an inspiration to me. In addition to him, I have my network of friends who have never failed to be there for me, either. I'm referring to the respective owners of BabyUniversity.com, FamilyCorner.com, ChildFun.com, OldFashionedLiving.com, Myria.com, and WomanLinks.com. These women are incredible and never shrink from giving of themselves if it helps someone else. They have taught me so much!12. What lies ahead?
Wow….what a great question. I'd love to get a syndicated parenting column going, but I have a lot to learn in that arena. I'd also like to really grow the other half of my business, which is my work with http://momswin.com/mia . This is work that I do for a wellness company out of my home. I'm having a blast with it, and the money is great! I have some nice goals lined up for myself here. I'm kicking around a publishing idea these days. More on that later, I hope! On the home front, I'd like to continue to be available to my kids at school in their outside activities. I love watching them learn and interact with other kids who have similar interests.13. What advice would you like to give to the women reading this? I'd have to say that if you ever have a dream or a goal, don't let anything stand in your way, if it's something you can change. If you can picture it, it can be. The difference between you and someone who's built their dream is simply that you haven't taken the first step yet. Also, find something for you. If you're a mother, you're already devoted to your family, but you need to remember who you are, too, so you're not depleting yourself and leaving nothing for anyone else. Give your children the gift of a happy mommy, one who knows what she wants and has the energy to go get it! Finally, never ever say, "Oh, it's too late to start anything like that…."because it's not. If you don't get that idea started, someone else will!