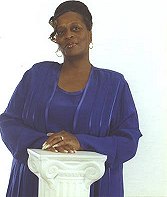 A tête-à-tête with our DCW of the month for MARCH 2003, Minister Gloria J. Little, or Minister G, as she is affectionately known as, reveals the dawn of a dynamic woman who has shattered the type-cast image of a Minister and given more meaning to her profession by working for causes that many fear to explore. Her 'SECRET KEEPERS SEMINARS' have helped many a women with their PERSONAL as well as PROFESSIONAL/BUSINESS problems.
Her words have that 'Missing Link' thing in them and will complete your knowledge of basics of living, learning and prospering as a WOMAN. With her newly accomplished 'Online Presence' with her website 'MINISTERG.com', she is all set to go International. An insight into her life will be an experience for every Woman. Here are the excerpts of my Rendezvous with this talented, fiery, multi-faceted personality.
"The Secret Keeper Seminar is for the woman who knows she's given her life away and wants to get it back" – Minister G
Tell us something about your life
My life is still in the making. New and unique opportunities are being presented to me daily. I am the only child of Johnnie R. and Cora W. Anderson. My parents instilled three things in me that have preceded and followed me in life. I was taught to value others, there is nothing that I can't accomplish and to keep a great sense of humor. My sense of humor has overshadowed the other two points. We were upper middle-class in the 50′s in Niagara Falls, NY. My father owned the first grocery delivery business in that area, starting in 1948 with door to door delivery. This grew into a major concern by 1960. My mother was a master tailor and seamstress. All of my "good" clothes were "home made". I enjoyed taking tap dance, piano, acting and singing lessons. Theatre and singing are my passions. I was involved for quite a few years with the African American Cultural Centers Theatre Ensemble. My greatest accomplishment there was to play in the musical adaptations of Rasin' and Dunbar. Then having the opportunity to play the role of "Mama" in A Rasin In the Sun. I have been in the limelight and I have been winning contests since I was in diapers. When I find the newspaper clipping, I will send you a copy.
How did you choose your calling in life? Did it come spontaneously to you or did it involve lots of introspection and observation of society?
My calling as Minister was spontaneous. My first glimpse into my calling was at the age of seven when I saw a little girl standing on the corner with a tattered sweater and no boots, in the middle of winter. I begged my mother to give her one of my coats. She did. I can still see the image of that little girl. I didn't know what was going on inside of me at that moment. All I knew is that I had to do something so she wouldn't be cold anymore. I guess that started this cycle in my life of always having an abundance of clothing. Perhaps God knew that I would always want to keep people clothed and fed. My heart can't take seeing others suffer for any reason.
Is there any particular incident that you can describe as a turning point in your life?
The incident that I can remember particularly is at the age of 15, going to the funeral of a very dear friend, Ruby Cook. She died at 15 and I didn't have anyone to give me the answers that I needed. I screamed and cried until I had to be taken out of the service. I have never felt anguish like that in my life, before or since. It was shortly after that, I became more aware of living and being alive and how important it was to appreciate every day that I am above ground.
What were the obstacles you faced on your path?
I faced obstacles that I thought were so silly at the time. The reason I wrote the book "Living Outside Lines and Limits" was because of the obstacles that I faced in life. There is one thing that I do know from experience, many people waste their time trying to keep others down. I have faced prejudice on every level imaginable. At the educational level, in the job market and in the pulpit. Once we get past ourselves, other peoples opinions won't matter much.
Who supported you, how does your family view your activities?
I had opposition from my mother and my Aunt for being a "preacher". Also for not having what they referred to as a "traditional" job. When I told my mother that I would never work for one establishment 25 or 30 years and retire on a pension, she was shocked. I remember my father saying that working for someone else will only make the other person rich. I have believed that all of my life.
Was there a lot of heartburn involved in breaking out of your traditional family mould and developing your new role in life?
There wasn't a lot of anything really because they weren't going to throw me away. They couldn't, I was their only child. Years after they found out that I wasn't going to stop, both my parents became the proud parents of Minister Gloria, the preaching woman. When I became the first female graduate of the Pastoral and Church Ministries Program at Houghton College in Buffalo, NY, they were very proud.
Tell us about Secret Keepers Seminar and Lead Safe House and your other works.
When I worked as the Director of Pediatric Medical Social Work at Children's Hospital in Buffalo, NY, I would see children with a "problem" that I couldn't put my finger on. I began paying attention to the back in 1980. The doctors at the pediatric clinic began to test the children for lead poisoning. To our amazement, there was an overwhelming and alarming number of young children with elevated lead levels in their blood. As I found more and more of my clients with this problem, I started working very closely with Dr. Mindy Cameron, at Erie County Medical Center to bring in as many of these children as possible for them to have a treatment called chelation, a painful process for taking out lead from the blood.
I heard about a program in NY City that gave families with children who had lead poisoning, a "Lead Safe" house to live in while their living quarters were going through the lead abatement or lead cleaning process. When I, along with a few others, arrived in NY to see it, we walked right into a hostile situation involving a domestic incident. It was not pleasant to say the least. When we arrived back in Buffalo, I sat down and immediately brought some key people to the table to see if we could gain a grant for such a project. I wrote the initial proposal which was funded for $500,000.00 for two consecutive years without returning to the negotiation table. Prior to this, I had initiated the Lead Safe Project for the city. This project brought 3.5 million dollars and jobs into the city for the abatement of homes in the inner city. A City Council legislation was voted on and passed for me to sit, in an advisory capacity, on the project.Secret Keepers is a conference idea that began on December 8, 1995. I had been talking to some young women after morning prayer at church regarding how their lives were going and progressing and some of the pitfalls of being young and single and old and single involved. When I got to work that day, I fell and broke my neck. As I recuperated (No, I didn't die and I'm not paralyzed), the plan for a women's seminar series was formulated. I had plenty of time to think and hear from God. I didn't want just run of the mill seminars. The Secret Keeper Seminar is for the woman who knows she's given her life away and wants to get it back. It is for the woman who is in the corporate arena and has been told that that she had gone as far as she can go. It is for the woman who has her own business and she doesn't know where to go to get information to take her to the next level. It is for women who have a desire to leave the junk and stop chasing the garbage truck.
Now that you are 'Online' and 'International', how do you feel about it?
Being online is opening yet another dimension and a much greater audience. I believe that those who are gracious enough to read the information, thoughts and comments on my web site, will gain knowledge, understanding and insight regarding how to move their lives from level to level. We are the ones who move ourselves along. Not those on the outside of our being can do this for us. I am excited because I enjoy meeting new people and the idea of being international is one that I believe will prove to be very beneficial.
Tell us about your latest book.
My latest two books are Wipe The It Off Your But And Become A Success and Let Your Body Choose Your Mate are two works that will have women laughing and in tears. The content of these two books is very personal because when I write, i always add the "me" element. The "me" element is what I call telling others my stories about various failures and how they were turned into successes. In my "Wipe" book, women will learn how to take the "cloth" of their ideas and remove or wipe out all the negative, phony, misleading filth that keeps them away from their goals. They will learn that "but" and every other obstacles can and will be moved out of their way. This book will assist women in more than the area of business.Let Your Body Choose Your Mate is a book on a mission. I began the book as a joke. However, as I started remembering some of the serious incidents that took place while I was a Social Worker, to many of the women I had counseled and mentored over a 25 year period of time, the laughter ceased. Although very humorous at times, this book is as serious a work regarding relationships that can be found on the market today. Women are such unique creations that they can literally allow their bodies to make the right choice for them when it comes to finding a mate. Some of you are saying that this is why you are in the mess that you are in now. Because of your body. Perhaps you weren't in tune with your body enough to make a conscious decision. These two book will revolutionize women's lives.
What is your message for DCW members and other women, in general?
Women, move past the limits that you have set for yourself and others have set for you. Get the business advice that you need and if I can assist you I will. I didn't mention that I have been doing training in business for over 15 years with much success. Get a direction that you want to go in and stay on course no matter what. Always be aware of who you are taking advice from or who is volunteering advice. What are they doing and what have they accomplished that is measurable. For those of you in ministry, I can say this, you are a Blessing getting ready to happen for those wise enough to listen to your wisdom. I have been asked how have I come by so much knowledge. My answer, I know when to talk and I also know when to listen. I align myself with people who have the solution that I am looking to achieve and I stay away from those who are seeking the same solution that I am. Get a mentor, someone who is already where you want to go.